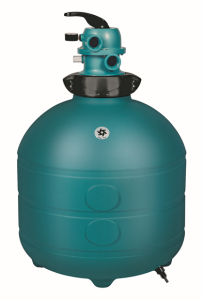 Sand filter for water filtration.
Filter with valve made of polyethylene resistant to chemical and weather agents. Blow moulded in single piece with base built into the filter. With top-mounted 6 way valve.
Features Filterkit Base
Drain connection: Yes
Drainage: Yes
Pressure gauge: Included
Unions: Not included
Filter materials: Polyethylene moulded in a single piece
O-rings: NBR/EPDM
Discharge connection type: Thread
Discharge diameter: 1 1/2"
Suction connection type: Thread
Suction diameter: 1 1/2"