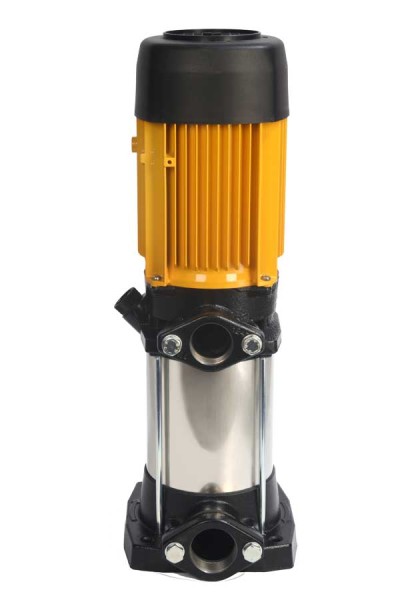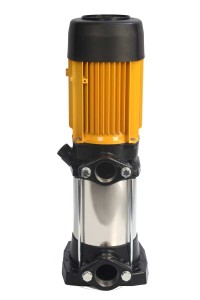 Vertical centrifugal multistage pump for water supply.
Pumping of clean water for domestic, industrial, agricultural and gardening purposes. Suitable for applications like water transfer, sprinkler or drip irrigation, domestic booster or booster sets. Silent.
Features Multi 35N
Counter flanges: Included
Discharge connection type: Thread
Discharge diameter: 1 1/4"
Motor cooling: Fan
Seal type: Mechanical seal
Suction connection type: Thread
Suction diameter: 1 1/2"
Water temperature (ºC): Max: 40
Electrical isolation: F Class
Motor type: Asynchronous
Protection rating: IPX5
Reset: Automatic
Service factor: S1
Diffuser/s: Technopolymer
Discharge body: Cast iron
Impeller/s: Stainless steel AISI 304
Mechanical seal: Aluminium-Graphite
Motor casing: Aluminium
O-rings: NBR/EPDM
Pump body: Stainless steel AISI 304
Pump shaft: Stainless steel AISI 420
Suction body: Cast iron
Electrical data
Single-phase models
Three-phase models
Intensity [A]
Input power P1 [kW]
Motor power P2
50 Hz
50 Hz
1~ 230V
3~ 230/400V
1~
3~
[kW]
[HP]
MULTI 35 3M N

Width: 56 cm

Height: 21 cm

Depth : 26 cm

Individual packaging weight: 21.387 Kg

Individual packaging volume: 0.031 m³

Units per pallet in individual packaging : 28

Electrical features

Capacitor capacity: 30µF-450V
Motor power P2: 0.75
Voltage: 230
Frequency: 50
Input power P1: 1.5
Intensity: 6,7

Limitations

Pressure range: 39-13
Maximum working pressure: 12

MULTI 35 3 N

Width: 56 cm

Height: 21 cm

Depth : 26 cm

Individual packaging weight: 21.500 Kg

Individual packaging volume: 0.031 m³

Units per pallet in individual packaging : 28

Limitations

Pressure range: 39-13
Maximum working pressure: 12

Electrical features

Motor power P2: 0.75
Voltage: 230/400
Frequency: 50
Input power P1: 1.4
Intensity: 4,5/2,6

6,70
4,50/2,60
1,50
1,40
0,75
1,01
MULTI 35 4M N

Width: 56 cm

Height: 21 cm

Depth : 26 cm

Individual packaging weight: 23.200 Kg

Individual packaging volume: 0.031 m³

Units per pallet in individual packaging : 28

Electrical features

Capacitor capacity: 30µF-450V
Motor power P2: 1.1
Voltage: 230
Frequency: 50
Input power P1: 1.8
Intensity: 8,4

Limitations

Pressure range: 52-17
Maximum working pressure: 12

MULTI 35 4 N

Width: 56 cm

Height: 21 cm

Depth : 26 cm

Individual packaging weight: 21.500 Kg

Individual packaging volume: 0.031 m³

Units per pallet in individual packaging : 28

Limitations

Pressure range: 52-17
Maximum working pressure: 12

Electrical features

Motor power P2: 1.1
Voltage: 230/400
Frequency: 50
Input power P1: 1.8
Intensity: 5,3/3,1

8,40
5,30/3,10
1,80
1,80
1,10
1,48
MULTI 35 5M N

Width: 60 cm

Height: 20 cm

Depth : 26 cm

Individual packaging weight: 25.100 Kg

Individual packaging volume: 0.031 m³

Units per pallet in individual packaging : 32

Electrical features

Capacitor capacity: 30µF-450V
Motor power P2: 1.5
Voltage: 230
Frequency: 50
Input power P1: 2.3
Intensity: 10,2

Limitations

Pressure range: 65-22
Maximum working pressure: 12

MULTI 35 5 N

Width: 60 cm

Height: 20 cm

Depth : 26 cm

Individual packaging weight: 22.700 Kg

Individual packaging volume: 0.031 m³

Units per pallet in individual packaging : 32

Limitations

Pressure range: 65-22
Maximum working pressure: 12

Electrical features

Motor power P2: 1.5
Voltage: 230/400
Frequency: 50
Input power P1: 2.2
Intensity: 6,9/4

10,20
6,90/4,00
2,30
2,20
1,50
2,01

MULTI 35 6 N

Width: 60 cm

Height: 20 cm

Depth : 26 cm

Individual packaging weight: 25.700 Kg

Individual packaging volume: 0.031 m³

Units per pallet in individual packaging : 32

Limitations

Pressure range: 78-28
Maximum working pressure: 12

Electrical features

Motor power P2: 2.2
Voltage: 230/400
Frequency: 50
Input power P1: 2.7
Intensity: 8,3/4,8

8,30/4,80
2,70
2,20
2,95

MULTI 35 8 N

Width: 80 cm

Height: 22 cm

Depth : 31 cm

Individual packaging weight: 32.600 Kg

Individual packaging volume: 0.055 m³

Units per pallet in individual packaging : 15

Limitations

Pressure range: 108-44
Maximum working pressure: 12

Electrical features

Motor power P2: 3
Voltage: 230/400
Frequency: 50
Input power P1: 3.6
Intensity: 11,9/6,5

11,90/6,50
3,60
3,00
4,02

MULTI 35 10 N

Width: 80 cm

Height: 22 cm

Depth : 31 cm

Individual packaging weight: 39.400 Kg

Individual packaging volume: 0.055 m³

Units per pallet in individual packaging : 15

Limitations

Pressure range: 134-57
Maximum working pressure: 12

Electrical features

Motor power P2: 4.9
Voltage: 230/400
Frequency: 50
Input power P1: 4.9
Intensity: 15,4/8,9

15,40/8,90
4,90
4,90
6,57