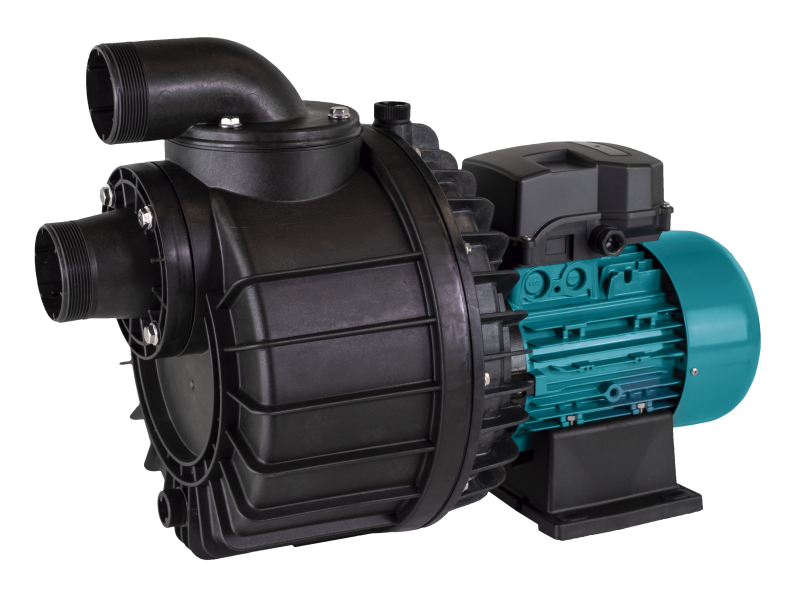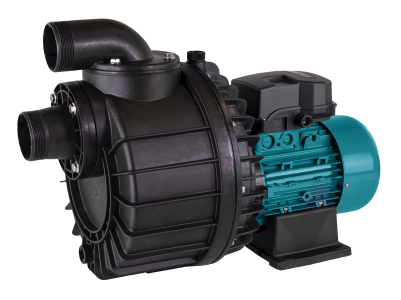 Centrifugal single stage pump for water stream.
Generation of a strong water stream to transform swimming pools into a place for sport and leisure. Self-priming up to 4m.
Features Nadorself
Electrical isolation: F Class
Motor type: Asynchronous
Protection rating: IPX5
Reset: Automatic
Service factor: S1
Diffuser/s: Technopolymer
Discharge body: Technopolymer
Impeller/s: Technopolymer
Mechanical seal: Aluminium-Graphite
Motor casing: Aluminium
O-rings: NBR/EPDM
Pump body: Technopolymer
Pump shaft: Stainless steel AISI 431
Suction body: Technopolymer
Discharge connection type: Thread
Discharge diameter: 2 1/2"
Motor cooling: Fan
Seal type: Mechanical seal
Suction connection type: Thread
Suction diameter: 2 1/2"
Maximum suction (m): 4
Water temperature (ºC): Max: 40
Electrical data
Three-phase models
Single-phase models
Intensity [A]
Input power P1 [kW]
Motor power P2
50 Hz
50 Hz
3~ 230/400V
1~ 230V
3~
1~
[kW]
[HP]
NADORSELF 200

Width: 59 cm

Height: 39 cm

Depth : 42 cm

Individual packaging weight: 21.400 Kg

Individual packaging volume: 0.097 m³

Units per pallet in individual packaging : 8

Limitations

Electrical features

Motor power P2: 1.5
Voltage: 230/400
Frequency: 50
Input power P1: 2.2
Intensity: 7/4.1

Manufacturing features

7,00/4,10
2,20
1,50
2,01

NADORSELF 200M

Width: 59 cm

Height: 39 cm

Depth : 42 cm

Individual packaging weight: 23.700 Kg

Individual packaging volume: 0.097 m³

Units per pallet in individual packaging : 8

Electrical features

Capacitor capacity: 40µF-450V
Motor power P2: 1.5
Voltage: 230
Frequency: 50
Input power P1: 2.2
Intensity: 10.2

Limitations

Manufacturing features

10,20
2,20
1,50
2,01
NADORSELF 300

Width: 59 cm

Height: 39 cm

Depth : 42 cm

Individual packaging weight: 24.400 Kg

Individual packaging volume: 0.097 m³

Units per pallet in individual packaging : 8

Limitations

Electrical features

Motor power P2: 2.2
Voltage: 230/400
Frequency: 50
Input power P1: 3
Intensity: 8.6/5

Manufacturing features

8,60/5,00
3,00
2,20
2,95

NADORSELF 300M

Width: 59 cm

Height: 39 cm

Depth : 42 cm

Individual packaging weight: 25.000 Kg

Individual packaging volume: 0.097 m³

Units per pallet in individual packaging : 8

Electrical features

Capacitor capacity: 60µF-450V
Motor power P2: 2.2
Voltage: 230
Frequency: 50
Input power P1: 3
Intensity: 13.4

Limitations

Manufacturing features

13,40
3,00
2,20
2,95
NADORSELF 400

Width: 59 cm

Height: 39 cm

Depth : 42 cm

Individual packaging weight: 27.000 Kg

Individual packaging volume: 0.097 m³

Units per pallet in individual packaging : 8

Limitations

Electrical features

Motor power P2: 3
Voltage: 230/400
Frequency: 50
Input power P1: 3.8
Intensity: 11.8/6.8

Manufacturing features

11,80/6,80
3,80
3,00
4,02