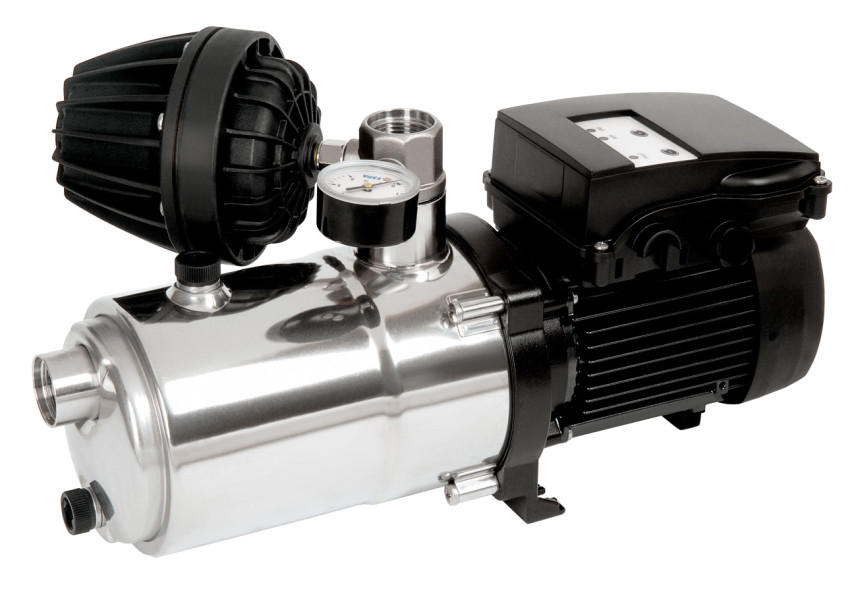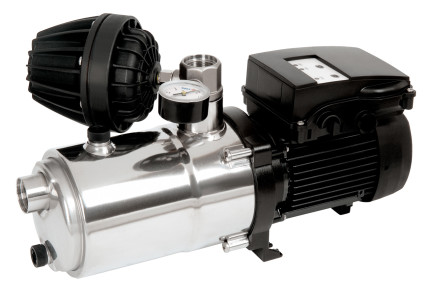 Multi-stage, integral, centrifugal, horizontal electric pumps for pressurising homes, low-scale irrigation systems and clean-water pumping applications that require a sturdy, compact pump.
Specially recommended for drinking-water applications.
Outstanding features include extremely quiet operation and self-suction capacity of up to 2 m, which is considerably increased with the installation of a foot valve. 
Its reliability is added to its control capability thanks to the integration of the constant-pressure control mechanism, which regulates the starting and stopping of the pump, leaving the installation pressurised at all times.
They are particularly recommended for pressurisation at constant pressure.
Series features Tecnopres 25
Check valve: No
Draining plug: Yes
Fittings: Not included
Pressure gauge: Included
Support base: Included
Manufacturing characteristics
Discharge connection type: Nut
Discharge diameter: 1" G
Impeller type: Closed
Motor cooling: Fan
Stages: Multi stage centrifugal pump
Suction connection type: Nut
Suction diameter: 1" G
Suction type: Selfprimming
Tightness by: Mechanical Seal
Liquid temperature (ºC): Min: 4 - Max: 35
Maximum no. of motor start-ups (start-ups/minute): 0.5
Electrical characteristics
Electrical isolation: F Class
Motor speed operation: Constantly speed
Motor type: Asynchronous
Protection rating: IPX5
Reset: Automatic
Service factor: S1
Service type: Continuous
Diffuser: PPO + 30% GF
Discharge body: Stainless steel AISI 304
Gaskets: NBR/EPDM
Impeller/s: Stainless steel AISI 304
Mechanical seal: Graphite-Steatite
Mechanical seal bracket: Aluminium
Motor casing: Aluminium
Nuts and bolts: Stainless steel AISI 304
Outer pump body: Stainless steel AISI 304
Pump shaft: Stainless Steel AISI 420
Suction body: Stainless steel AISI 304
Support base material: Aluminium