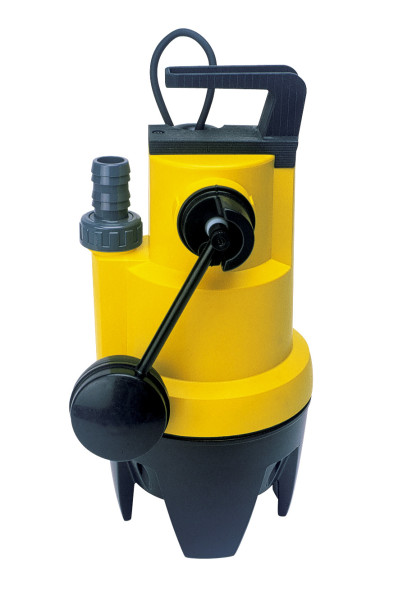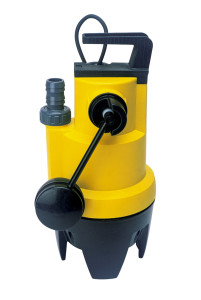 Very compact submersible pumps for drainage, removal of loaded and dirty water, infiltration water, emptying ponds, swimming pools and tanks and, in permanent installations, for preventing flooding in basements.
They are also used to transfer water between tanks and cisterns and for emergency draining of sumps, flooded garages and basements and even sumps with sewage.
It is supplied with 10 m of electric cable with a plug and a level switch to automate its operation depending on the water level; The outer casing can be removed very easily. 
Made entirely from plastic materials, it allows very easy handling for all types of household applications involving dirty water. They have a large passage for solid particles of up to 24 mm, which improves their usefulness and allows smooth operation thanks to the design of their hydraulics with an offset vortex impeller.
Its motor is cooled by the delivery water.
It includes a grooved adapter for hose or a 1" male thread with a flat gasket for existing connections.
Series features Vigilex
Check valve: No
Draining plug: No
Fittings: Glue
Handle: Included
Pre-filter: Included
Support base: Included
Manufacturing characteristics
Discharge connection type: Hose Connector
Discharge diameter: D25
Motor cooling: Water
Solid passage (mm): 24
Stages: Single-Stage Centrifugal Pump
Liquid temperature (ºC): Min: 4 - Max: 35
Maximum no. of motor start-ups (start-ups/minute): 0.5
Electrical characteristics
Electrical isolation: F Class
Motor speed operation: Constantly speed
Motor type: Asynchronous
Protection rating: IP68
Reset: Automatic
Service factor: S1
Service type: Continuous
Discharge body: PP + 30% GF
Impeller/s: Charger Polyamide with GF
Mechanical seal bracket: PP + 30% FV
Motor casing: PP + 30% GF
Nuts and bolts: Stainless steel AISI 304
Outer pump body: PP + 30% GF
Pre-filter: Technopolymer
Pump shaft: Stainless Steel AISI 420
Suction body: PP + 30% GF
Support base material: Technopolymer