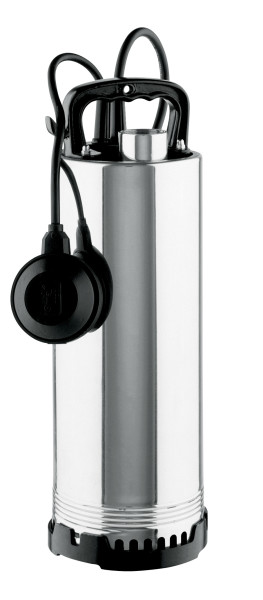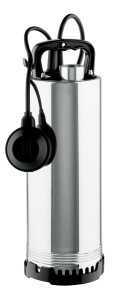 Very sturdy submersible pumps made from stainless steel for drainage, removal of clean water, infiltration water; emptying ponds, swimming pools and tanks and, in permanent installations, for preventing flooding in basements.
Their sturdiness has been specially designed for use in transferring water between tanks and cisterns, for emergency emptying of drains, garages and flooded basements and in severe applications with water that is not excessively loaded.
They include a silicon carbide and aluminium oxide mechanical seal for optimum watertightness.
It is supplied with 10 m of electric cable with a plug and a level switch to automate its operation depending on the water level.
They allow the passage of solid particles of up to 8 mm, which improves their usefulness and allows smooth operation. Its motor is cooled by the delivery water.
They have a 1 1/4" BSP female outlet.
Series features Vigila SS
Check valve: No
Draining plug: No
Fittings: Screw
Handle: Included
Pre-filter: Included
Support base: Included
Manufacturing characteristics
Discharge connection type: Nut
Discharge diameter: 1 1/4" G
Motor cooling: Water
Solid passage (mm): 8
Stages: Single-Stage Centrifugal Pump
Tightness by: Mechanical Seal
Liquid temperature (ºC): Min: 4 - Max: 35
Maximum no. of motor start-ups (start-ups/minute): 0.5
Maximum submersion (m): 10
Electrical characteristics
Electrical isolation: F Class
Motor speed operation: Constantly speed
Motor type: Asynchronous
Protection rating: IP68
Reset: Automatic
Service factor: S1
Service type: Continuous
Discharge body: Stainless steel AISI 304
Gaskets: NBR
Impeller/s: Rubber TPU 65Sh Reinforced by bi-chrome iron
Mechanical seal: Aluminium-Silicon Carbide
Mechanical seal bracket: PP + 30% FV
Motor casing: Stainless steel AISI 304
Nuts and bolts: Stainless steel AISI 304
Outer pump body: Stainless steel AISI 304
Pre-filter: Stainless steel AISI 304
Pump shaft: Stainless Steel AISI 420
Suction body: PP + 30% GF
Support base material: PP + 30% GF